Pawn Shop Rolex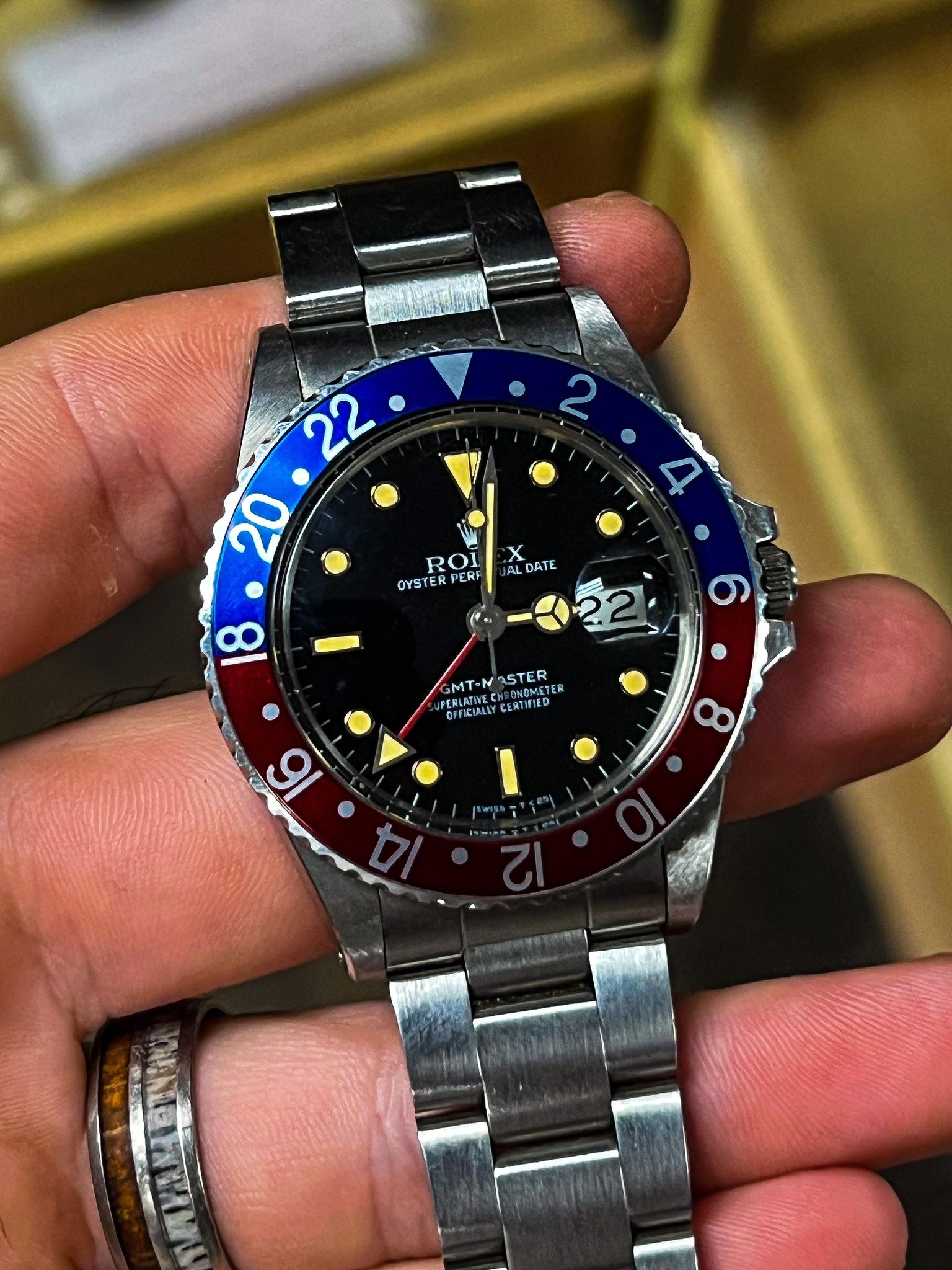 PICTURE THIS
: You're sitting in your office at work and your iPhone buzzes with a text saying, "Hey, you're still into watches right? We just got two Rolex watches in at the pawn shop that you may be interested in." If you're a watch lover like me, that'll get your wheels turning faster than anything else in the world. Next thing you know, a couple of photos come through. My eyes gaze upon the picture of what appears to be a 1980s-1990s Rolex Pepsi GMT Master AND a solid 14k gold Rolex Oyster Perpetual that looks to be from the 1960s on a Rolex leather band with gold Rolex-signed clasp. I immediately made the call to get more information on this pair.
As it turns out, the previous owner had passed away and his son wasn't into watches whatsoever so he decided to liquidate these estate pieces for some spending cash. After learning the asking price for the pair from the shop, I immediately reached out to my watch network for advice and started doing my own due diligence as it would be a good chunk of cash going into acquiring these pieces. In fact, buying these two pieces in one deal would be the most I've ever spend in one watch purchase by far. Later that afternoon, I decided it'd be best to lay eyes on them in person to verify everything I saw in the photos, so I called up my friend at the pawn show and decided to meet him as soon as they opened the following day.
I took the day off from work and made the hour and a half drive over to the quaint shop outside of Atlanta, Georgia with cash in hand. As I walked into the shop, my contact already had them laid out ready for me to check them out. He handed me his loupe and I began looking over all the details on the GMT first. The dial showed even patina on the indices inside the white gold surrounds and on the hands to match. Having been warned that this watch could have had a service dial installed by Rolex in the somewhat recent past, I figured that perhaps it wasn't the case here. I checked the serial number and dated the GMT Master to 1986 on a 1985 hollow Iink oyster bracelet with the classic "Rolex Rattle" to it. Next up is the Oyster Perpetual. I run the serial number on it and it's also right around the age I thought: 1966. I check the case-back and it had the correct stamps for a solid 14k gold piece, so now I'm feeling even better about this deal.
Now came the time for my most favorite part of buying watches. The negotiation. I point out some of the discrepancies on what he claimed they were worth versus what was accurate due to the facts: the references, ages, lack of box papers and service history. He starts out high, which is what I expected, and I counter with a little bit less than what's in my pocket. He says he can't do that so I up the ante by $500 to what was my intended maximum offer and I make it known that's my absolute final offer. Immediately, he shakes my hand and says "you now own two new-to-you Rolex watches,"
Here's the kicker though. He had to add a "but" into the tail end of that sentence. Here's why: since he's a pawnshop owner, they are required by law to hold any item over a specific value for at least 7 days after they initially purchase the item to see if it's stolen. Mind you, he JUST bought them the previous day, so I get hit with the disappointing news that it'll be the following Tuesday before I can take them home with me for good. I take a ton of pics before leaving the shop and spend the next long drawn out 7 days watching YouTube videos on these pieces, digging deeper into them, and getting prices for possible services they may require.
By Tuesday my wife is tired of hearing about them but I'm too filled with excitement to stop looking into them more. I head out and pick them up and this was by far the longest hour and half drive I have ever made. I pick them up, and make the long drive home to get the GMT sized up and wrist-worthy. I've always had the dream of owning one after owning a Tudor GMT, and watching Raymond Reddington wear one in The Blacklist. Since the OP's old, tattered band is now quite delicate I placed it in my safe and ordered another aftermarket strap with a gold clasp. Since then my wife has fallen in love with the piece and has worn it nearly every time we go out now. As for myself I've been sporting the GMT the most out of my collection recently.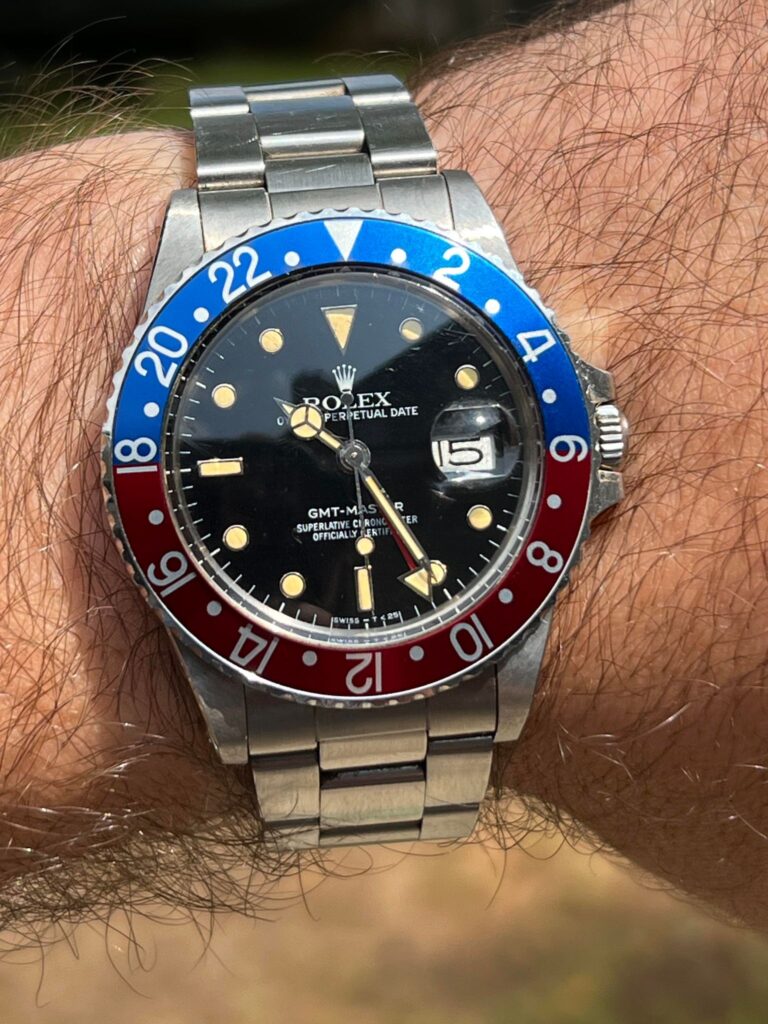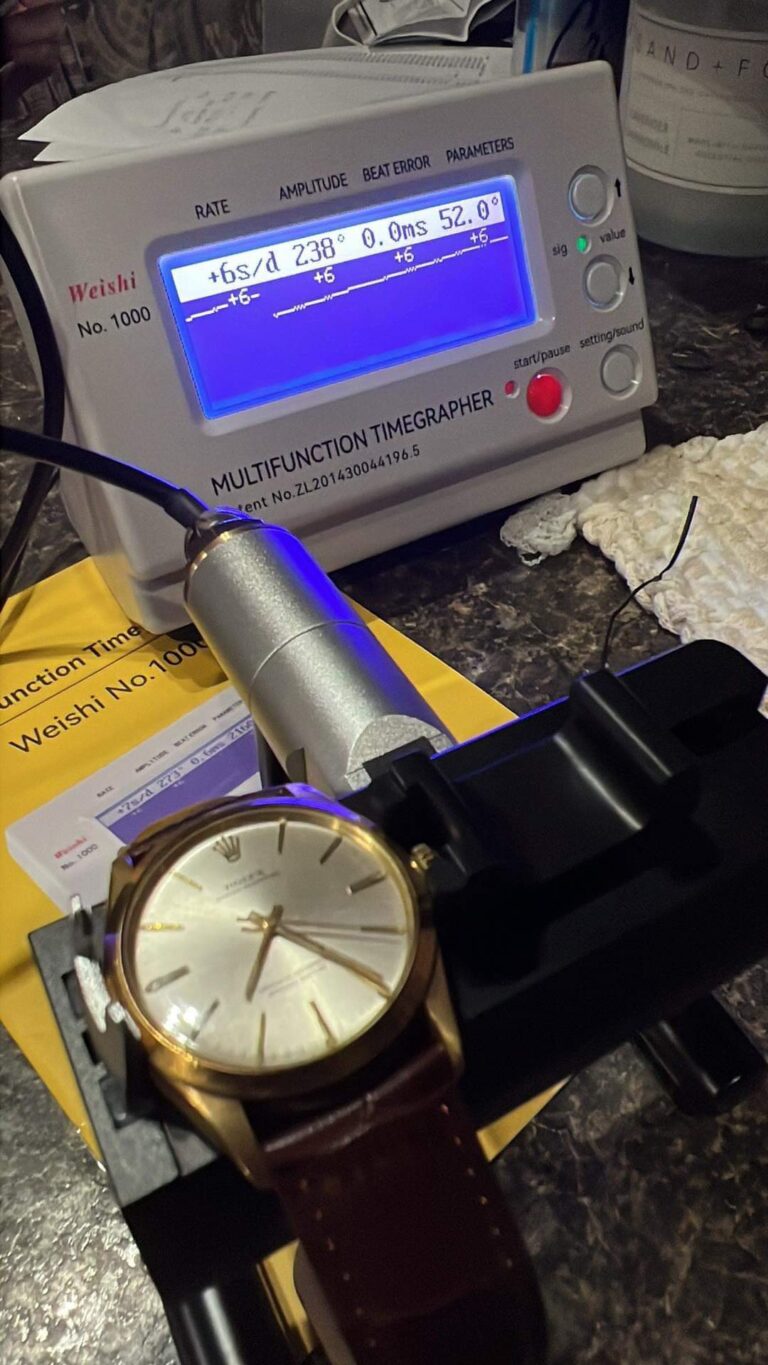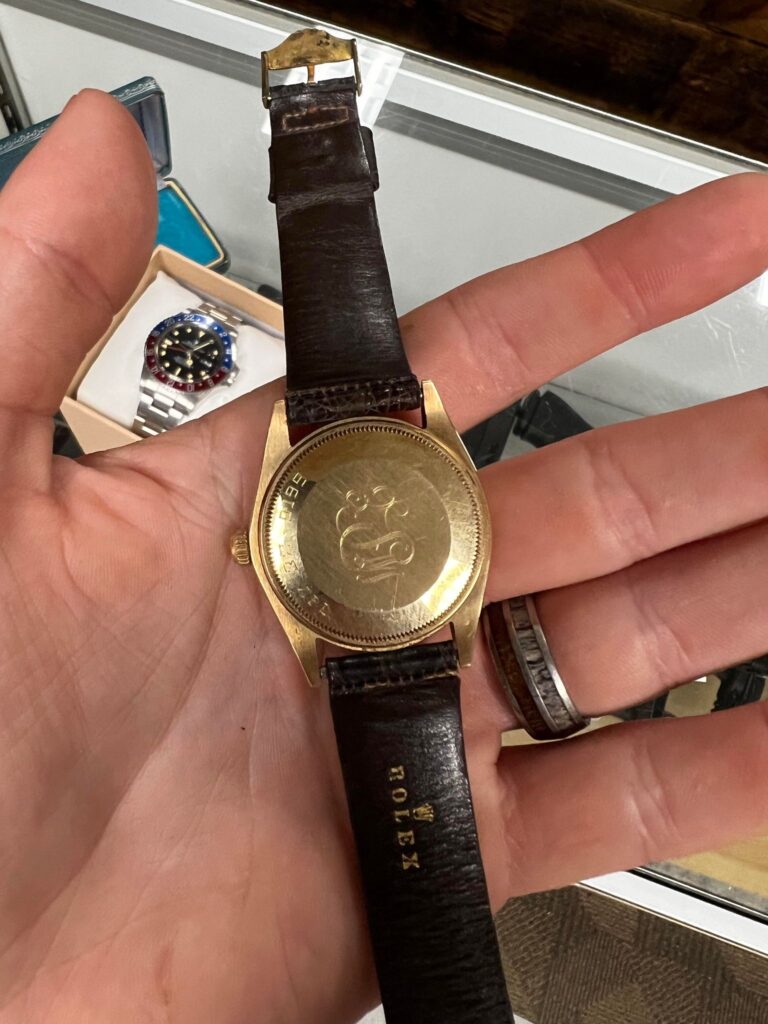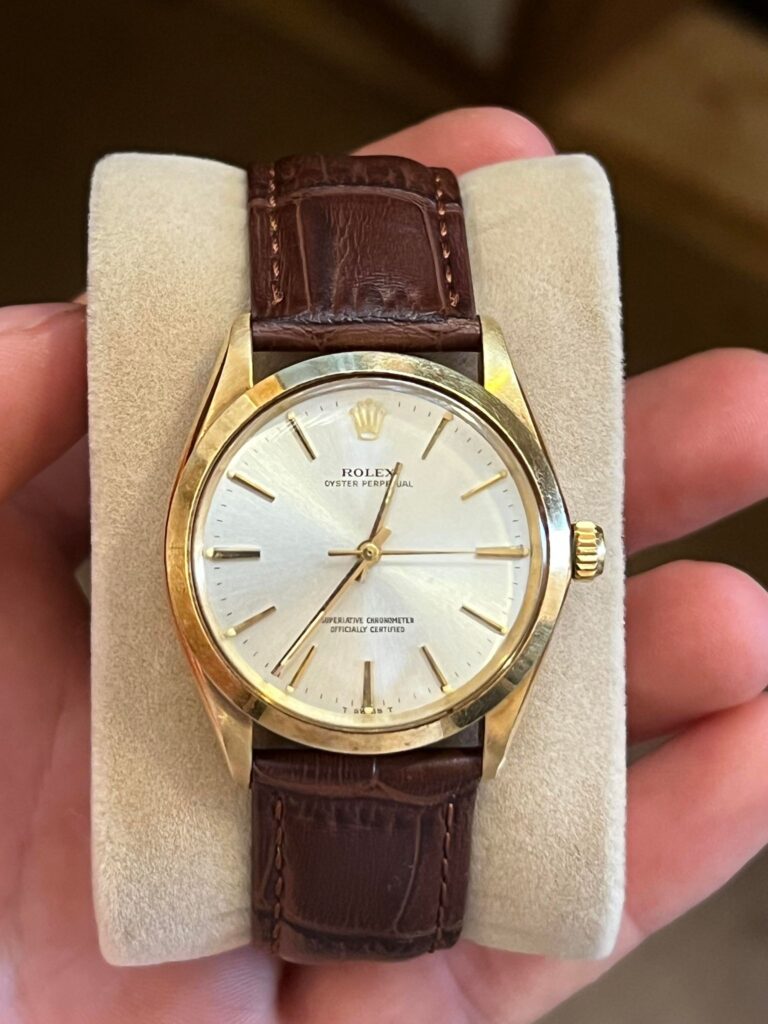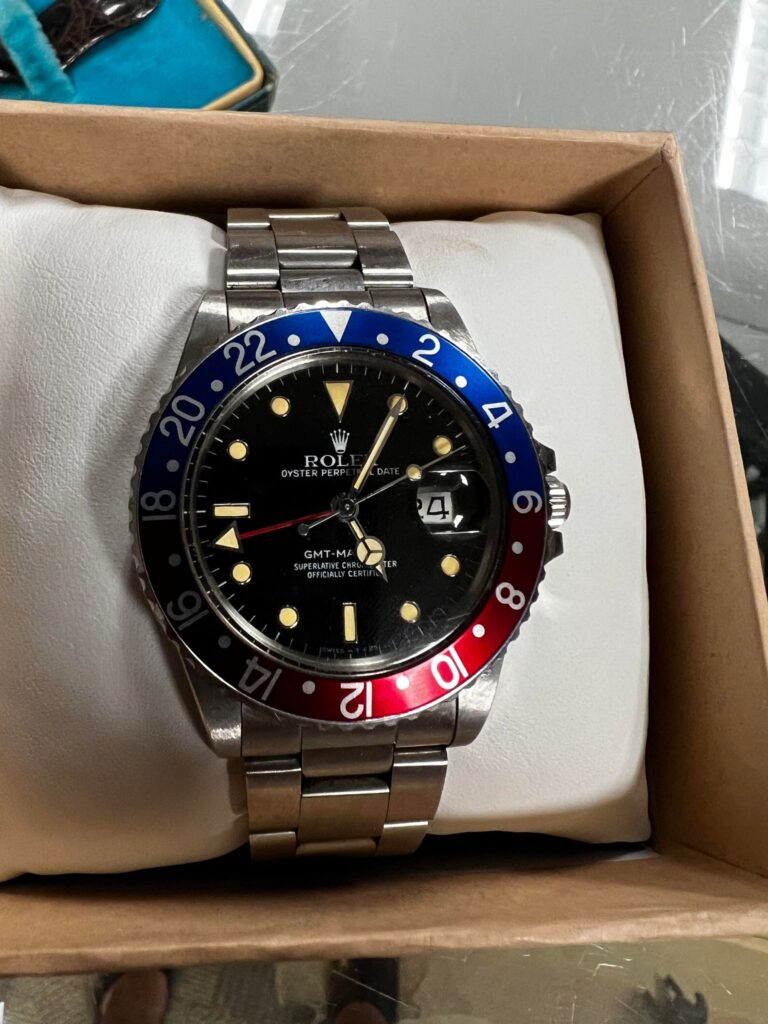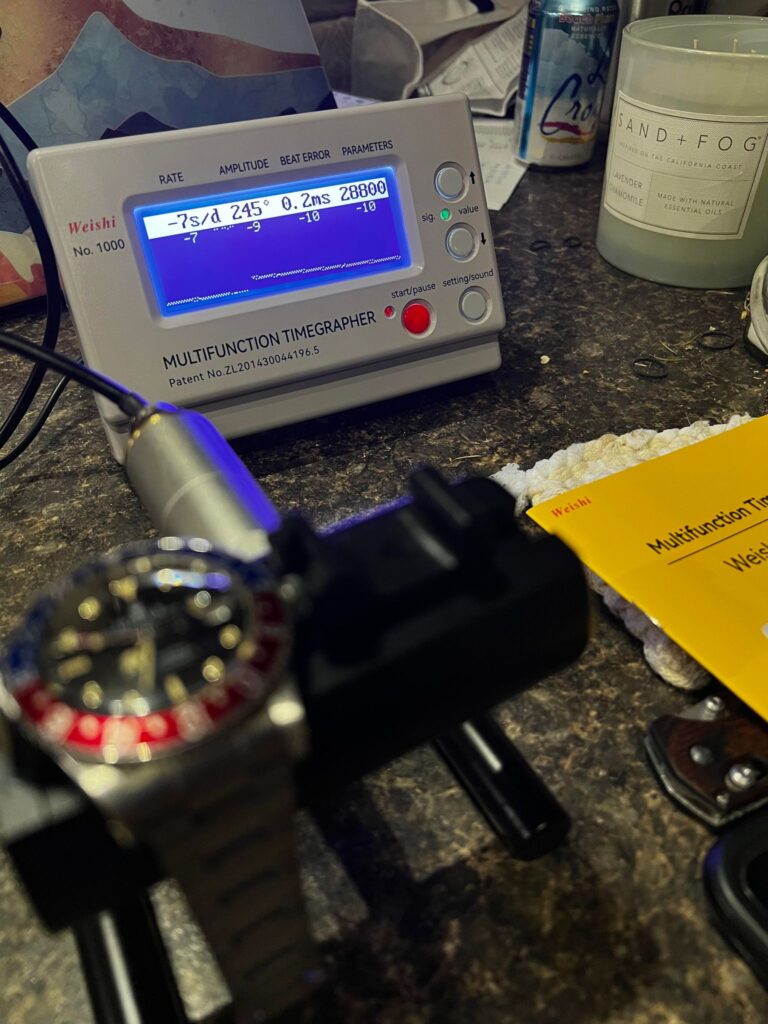 About The Author